You are here
How a Seed Grows (Let's-Read-And-Find-Out Science 1) (Prebound)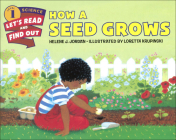 $18.25
Email or call for price.
Description
---
How does a tiny acorn grow into an enormous oak tree? This classic Level 1 Let's-Read-and-Find-Out picture book shows how little seeds become the plants and trees that surround us.
Now rebranded with a new cover look, this book includes a find out more activity section with a simple experiment encouraging kids to discover what a seed needs to grow. Both text and artwork were expert-reviewed for accuracy.
This is a Level 1 Let's-Read-and-Find-Out, which means the book explores introductory concepts perfect for children in the primary grades and supports the Common Core Learning Standards and Next Generation Science Standards. Let's-Read-and-Find-Out is the winner of the American Association for the Advancement of Science/Subaru Science Books & Films Prize for Outstanding Science Series.