You are here
Your Amazing Digestion from Mouth through Intestine (Your Amazing Body Books) (Hardcover)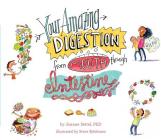 $19.99
Email or call for price.
Description
---
Dr. Joanne Settel has all the answers to our most burning questions in this wacky and informative book of poems about our digestive systems.

Have you ever wondered…
Why spicy foods can make you sweat?
Why garlic makes your breath so stinky?
Just how long your long intestine is?
What a pizza slice looks like…going down?
Why food tastes different when you have a cold?

With fascinating details, catchy rhymes, and quirky illustrations by Steve Björkman, acclaimed author Joanne Settel answers all of these questions (and more!) in this engrossing, fun exploration of the science of our digestive systems. When she's through, you won't believe what your guts can do—or what you can stomach!
About the Author
---
Dr. Joanne Settel is an award-winning writer of science books for children, including Your Amazing Skin from Outside In and Your Amazing Digestion from Mouth Through Intestine. Dr. Settel's book Exploding Ants: Amazing Facts About How Animals Adapt was listed as one of the Outstanding Science Trade Books for Children by the Children's Book Council. Dr. Settel has a PhD in Zoology. She is a professor emeritus at Baltimore City Community College, where she taught courses in biology, anatomy, and physiology. She lives with her husband in Maryland, where she enjoys hiking, playing bridge, and gardening. Visit her online at JoanneSettel.com.

Steve Björkman has illustrated more than 100 books for children, including the New York Times bestseller Dirt on My Shirt by Jeff Foxworthy. He has also sold more than 200 million greeting cards with his brother, Carl, through Recycled Paper Greetings. When he's not painting, he's working on authoring books for kids. Steve lives with his wife in Irvine, California. Visit him online at SteveBjorkman.com.
Praise For…
---
* "Settel's work is both engaging to read and chock-full of facts. . . . There are lots of enticing bits to hold children's interest through the somewhat drier sections on what is transpiring as the chyme hits the road through the entrails; and before readers know it they have followed food from ingestion to elimination and are happily wiser than they were at the start. Bjo¨rkman's colorful cartoon illustrations keep perfect time with Settel's chirpy, informative text. . . . An informative romp in an unexpected playground!"
— School Library Journal, starred review

"A fascinating, fact-filled tour of the digestive system. . . . Settel remarkably manages to maintain the text's rhyme structure without sacrificing scientific detail or vocabulary (later emphasized with a detailed glossary). She also doesn't shy away from tackling the grosser aspects of digestion (diarrhea, vomiting, and farting all find their place). Björkman's pen, ink, and watercolor scenes break up the text and counterbalance the book's advanced content with exaggerated humor. A one-stop rhyming shop for all things digestion."
— Publishers Weekly

"There's plenty of attention to chemical interactions and anatomical detail in these poems for all that they are cast in iambic couplets. . . . Björkman's cartoons, all bright colors and loose, fluid lines, add a diversely hued cast of young folk exuberantly chowing down, throwing up, looking amazed or grossed out, and posing as models for labeled internal views. . . . What's not to love?"
— Kirkus Reviews