N Is for Natural State: An Ark (Discover America State by State) (Hardcover)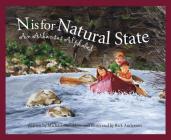 $17.95
Email or call for price.
Description
---
Illustrated by Rick Anderson Discover the unspoiled beauty of Arkansas in N is for Natural State: An Arkansas Alphabet. Acansa is the Sioux Indian name for the state we know today as Arkansas and this begins our alphabet journey. Next you'll find Blanchard Springs Cavern with its 80,000 bats and then to D is for Diamonds, and learn the Natural State is the only state that mines them. Illustrator Rick Anderson's rich and colorful images bring the beautiful vision of Arkansas to all readers.