Soul Surfer: A True Story of Faith, Family, and Fighting to Get Back on the Board (CD-Audio)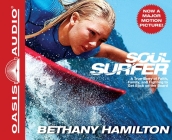 $19.99
Email or call for price.
Description
---
She lost her arm in a shark attack and nearly died, but she never lost her faith. Now a major motion picture, Soul Surfer is the moving story of Bethany Hamilton's triumphant return to competitive surfing and has continued to be a beacon of inspiration to all who hear it. They say Bethany Hamilton has saltwater in her veins. How else could one explain the passion that drives her to surf? Or that nothing—not even the loss of her arm—could come between her and the waves? That Halloween morning in Kauai, Hawaii, Bethany responded to the shark's stealth attack with the calm of a teenage girl with God on her side, resolutely pushing aside her pain and panic while being rescued and brought back to shore. "When can I surf again?" was the first thing Bethany asked after her emergency surgery, leaving no doubt that her spirit and determination were part of a greater story—a tale of personal empowerment and spiritual grit that shows the body is no more essential to surfing, perhaps even less so, than the soul.
About the Author
---
Bethany Hamilton, whom YM magazine called the "Bravest Girl in America," has been surfing since she was a toddler. After her shark attack, she returned to competitive surfing and in 2005 took first place in the NSSA National Championships. Now a professional surfer, she is currently ranked among the top women in the world. As well as receiving the 2004 Teen Choice Award for Courage and the 2004 ESPY award for Best Comeback Athlete, she makes many television and other event appearances. Recently, she launched Friends of Bethany, an organization dedicated to supporting and encouraging shark attack survivors and traumatic amputees along with presenting inspiring life stories through movies, projects, and activities.
Praise For…
---
"Surfer Bethany Hamilton, of Kauai, revisits her first book—about her life before and after losing her left arm to a shark in 2003, when she was 13. Now, with the release of a docudrama on her life, she has added new material. Eleni Pappageorge's narration reflects the maturity Hamilton has gained since the first book. The most interesting passages are about Hamilton's family, their Christian perspective, and the bond formed by their shared love of surfing. The book would be an excellent choice for Christian families listening together—and, thankfully, there's nothing graphic about the shark attack. Interviews at the end provide an interesting look at the making of the movie." 
J.A.S. © AudioFile Portland, Maine