This is a book about what citizenship--good citizenship--means to you, and to us all.
"In an era of burgeoning student activism, [this book] is arriving at the perfect time." -Entertainment Weekly
Empowering and timeless, What Can a Citizen Do? is the latest collaboration from the acclaimed duo behind the bestselling Her Right Foot: Dave Eggers and Shawn Harris. This is a book for today's youth about what it means to be a citizen.
Across the course of several seemingly unrelated but ultimately connected actions by different children, we watch how kids turn a lonely island into a community--and watch a journey from what the world should be to what the world could be.
Join us for a talk and book signing with illustrator Shawn Harris. He is an artist and musician who lives and works in Morongo Valley, California. Meanwhile, check out Shawn's website here.
Event date:
Saturday, September 29, 2018 - 2:00pm
Event address:
Secret Garden
2214 NW Market St

$17.99
ISBN: 9781452173139
Availability: Usually Ships in 1-5 Days
Published: Chronicle Books - September 11th, 2018
"[This] charming book provides examples and sends the message that citizens aren't born but are made by actions taken to help others and the world they live in." —The Washington Post

---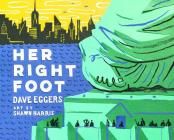 $19.99
ISBN: 9781452162812
Availability: Usually Ships in 1-5 Days
Published: Chronicle Books - September 19th, 2017
"A friendly reminder of how America can be at its best." – Entertainment Weekly

If you had to name a statue, any statue, odds are good you'd mention the Statue of Liberty.

Have you seen her?

She's in New York.
She's holding a torch.
And she's in mid-stride, moving forward.
But why?

---