2010 Theodor Seuss Geisel Award and Honors
---

$12.95

ISBN: 9780979923890
Availability: Usually Ships in 1-5 Days
Published: Toon Books - May 1st, 2009
Theodor Seuss Geisel Award WinnerBenny and his sister Penny know it's wrong to sneak into someone else's backyard but their mysterious new neighbor--or is it a monster?--may be a thief. They go snooping and discover a lot about themselves and...a new friend.Bestselling children's artist Geoffrey Hayes enchants early readers with his charming and subtle storytelling.
---

$6.99

ISBN: 9780545110280
Availability: Usually Ships in 1-5 Days
Published: Cartwheel Books - October 1st, 2009
The 7th book in the bestselling Fly Guy series--with fun foil covers!

When Fly Guy and Buzz play hide-and-seek, Fly Guy hides in his favorite place--the garbage can. But as Buzz finishes counting, the garbageman drives away with the garbage and Fly Guy, too! A very worried Buzz follows the truck to the dump, where he sees zillions of flies.
---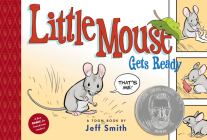 $12.95

ISBN: 9781935179016
Availability: Usually Ships in 1-5 Days
Published: Toon Books - September 1st, 2009
There's lots to do before Little Mouse is ready to go visit the barn. Will he master all the intricacies of getting dressed, from snaps and buttons to Velcro and tail holes? Eisner Award-winning cartoonist Jeff Smith and his determined Little Mouse reveal all the smallest pleasures of this daily task.
---